The meeting with Max Silberstein, the developer of the linguistic software NooJ, professor of Franche-Comte, French University, took place in the Philology Department on November 26.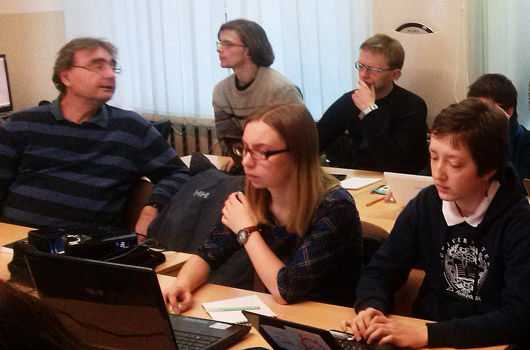 Today linguistics experts in applied and, in particular, computer linguistics are in demand on the job marketplace. So, this is not surprising: remote learning systems, machine translation systems, electronic dictionaries are more widespread among people. Usage of them provides significant advantages in effectiveness of work and learning. Optimization of philologists' work is fostered by software-based linguistic instruments, which allow to work not only with separate lexemes, but also with whole texts. So, the knowledge development in the field of applied linguistics, the consideration of international development and application programmes use practice are overriding priorities in modern Belarusian philology.
In different years Max Silberstein worked in Université Paris 7, Northwestern University and IBM Watson Research Center. He read a lecture about modern development trends of applied linguistics at the Philology Department and then gave a master class in applied software NooJ, which is used to solve broad linguistic problems. On the same day Max Silberstein introduced students of the Faculty of Applied Mathematics to contemporary problems of automatic text processing. He answered questions about foreign practices development of science and technology, told about European practical projects and discussed with his Belarusian colleagues future development of computer linguistics.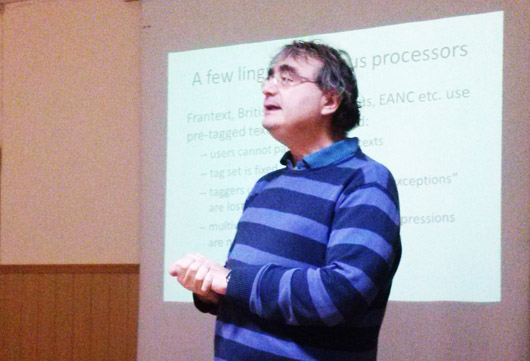 NooJ software helps to create personal text corpora, carry out text search by using special queries, and it can be used in foreign language teaching. Another NooJ advantage is that extensional dictionaries and grammars of different languages were included to its basis, among which Belarusian and Russian are. The production has a user-friendly interface, due to the graph editor of grammars, it is opened to wide audience and can be useful for the automatic word parsing to syllables, the creation of the phonetic and prosodic transcriptions of different kinds, the machine translation and also for text analysis that includes syntactic and morphological analysis, sentiment analysis, business analytics.
NooJ – is an Internet open source. The given software had already been tested in many practically significant projects; nevertheless, it is constantly elaborated,the number of work are beind increased due to the programm usage. NooJ-community is open to effective cooperation (www.nooj4nlp.net). And pretty soon, on June 11-13, International Conference of NooJ-users will take place in Minsk. It is also hosted by the Speech Synthesis and Recognition Laboratory of UIIP NAS of Belarus (http://nooj2015.ssrlab.by/). Philologists, mathematicians, software developers, and experts in other fields are invited to take part in this conference.
Siarghiej MAJEUSKI
Posting date: 5.01.2015
Source of text: http://www.gazeta.bsu.by/2015/01/nooj-instrument-dlya-filolaga/