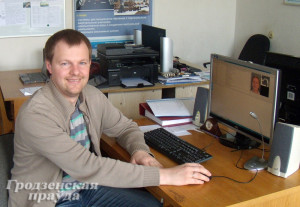 Computer can speak Belarusian
30-year-old scientist was born in Krupava village of Lida district. He studied at the local school, then at high school №1 in Lida. He graduated from the Faculty of Applied Mathematics and Computer Sciences of Belarusian State University. Yuras Hetsevich obtained Master's degree, PhD, defended his thesis. For seven years he has been working in the area of speech synthesis and computational linguistics and teaches at BSU and BSUIR.
Our  countryman Yuras Hetsevich has PhD in engineering, the head of the Speech synthesis and recognition laboratory of the Joint Institute of Informatics Problems of the National Academy of Sciences of Belarus teaches a computer to recognize and synthesize Belarusian texts together with the team.
… Yuras inputs the text into the program, clicks on the "transformation" button – and … printed text is processed into an audio file instantly! The computer reads aloud with synthesized voice like a robot from the film … …
– Its a miracle! – I say. – Was it difficult to teach a computer to speak Belarusian?
– Our laboratory is one of the first in Belarus to establish common principles and prototypes of speech synthesizers that are appropriate to various Slavic languages: Belarusian, Russian, Ukrainian, Czech. The process of speech synthesis is quite complex but at the same time very exciting. A large team of "physicists and poets" (linguists, philologists, stylists, programmers) work on it. As for the Belarusian language – the machine must not only read the text clearly, but also take into account the peculiarities of words pronunciation, intonation processing, stressing, assimilative palatalization, etc.
– Is it the work of recent years?

– No, the lab exists more than forty years. When I even was not born and computer technology only started to develop in our country, the laboratory under the supervision of Doctor of Sciences Boris Lobanov started practicing speech technologies: speech recognition system and speech  synthesis, conversion of information from the audio type to the text and vice versa.
– For whom is your program? And what is the practical use of it?

– Text-to-Speech synthesis is effective for people who are visually impaired, blind or who can not read because of driving a car. For example, it has been used successfully in Maladečna special comprehensive boarding school for children with visual impairments since 2006. It also can be used in gps-navigators, "speaking" blood pressure monitors, thermometers, scales, and a variety of other electronic devices. With it you can read the RSS-mailing, translate books in audio formats, voice sites – all this will contribute to the development of the native language and its preservation.
– Is it very important for you?

– Yes, it is. Because the language is the gift of God, which must be used, which should be kept and handed down from generation to generation.
 – Are your family also speak Belarusian?

– Of course! My wife, Sviatlana, the philologist of French and English, and my son Simon also speak the native language. I am proud that my son's first words were in Belarusian. If a language lives in a family, it will live among the people.
– Last year the autonomous mobile robots, who spoke Belarusian, caused a real rush on the exhibition «TIBO-2013″ .

– We strive to  implement more effective speech system in robotics, to make the iron more intellectual. And, of course, we would like our native language to be actively used in everyday life, to sound everywhere. Therefore, we are looking for people who are interested and open for cooperation.
P.S. For you, the readers of "HP" – an online version of a speech synthesizer is available in the text: www.corpus.by/tts3/  from Yuras Getsevich. While typing, write plus sign to mark a stressed vowel- for  the machine, which will see where it is necessary to arrange stress.
02.05.2014